---
Details
A poor sleep can ruin your day - and even your week! If you suffer from poor sleep patterns, have trouble sleeping, difficulty in staying asleep or struggle to switching off and get into deep sleep, we've created a powerful magnesium formula to help you switch off and enjoy a deep restorative sleep. Packed in 100% Sugarcane Plastic packaging - kerbside recyclable.
Benefits
Supports switching off and staying asleep

Supports healthy sleep patterns

Helps you to wake feeling refreshed

How to use

Adults: 1-2 capsules daily

Children 12 years and over: 1 capsule daily

Not recommended for use during pregnancy or breastfeeding

Always read the label and use as directed

If symptoms persist see your healthcare professional

Vitamins & minerals are not a replacement for a balanced diet

Store below 25° and away from direct sunlight

Do not use if cap seal is broken

Keep out of reach of children.

How does it work
Our Magnesium Sleep Switch has been scientifically studied to help you to build better and better sleep, allowing you to wake refreshed. It contains natural Magnesium with over 72 elements and minerals for superior absorption, along with Lemon Balm and Magnolia. This unique sleep formula combines sleep nutrients with relaxing botanicals for a tranquil and deep night of sleep.

Natural Magnesium helps healthy melatonin release and neurotransmitter production supporting a balanced circadian rhythm in the body which encourages a better sleep/wake cycle.

Magnolia is not just a pretty flower! It is also effective at encouraging relaxation and building better and better sleep, by acting on our brain neurotransmitter production, supporting deep restorative sleep patterns. It's a unique non-drowsy ingredient for supporting an over-wired nervous system, helping to get you to sleep and to stay asleep and wake refreshed, by acting on GABA, one of our relaxation and feel good transmitters. GABA helps melatonin production in the brain for better sleep and helps you switch off an over-busy mind helping with healthy sleep patterns. Who knew a flower could do all of that?!

Finally, Lemon Balm acts as a natural sleep aid, supporting calmness and helping sleep quality. Lemon Balm contains rosmarinic acid, a bioactive compound that works on neurotransmitters for mood and relaxation, further helping to switch off an over-busy nervous system.
About Wellness Plus

Wellness Plus Philippines provides the best health needs one-stop shop. The official flagship of Comvita, LifeSpace, Hope's Relief, Lifestream, and Trilogy Products. Best & Authentic distributor in the Philippines with over 10,000 customers nationwide.
Lifestream Q&A
Q:What are the key ingredients in Magnesium Sleep Switch to help switching off and staying asleep?
A:Magnolia naturally helps support healthy melatonin production in the brain for normal sleep, helping you relax and switch off an over- busy mind. This helps support a healthy sleep pattern. Lemon balm acts as a natural aid for sleep, supporting calmness and helping sleep quality. Lemon balm supports the nervous system with a relaxing effect on mood, alongside its stress-free action. Natural Magnesium helps to support mind and body tension by supporting tired muscles and tension. With over 72 vital elements and minerals, Natural Magnesium delivers superior absorption and effect. Our Magnesium Sleep Switch is an effective blend of relaxing and beneficial ingredients for deep restorative sleep.

Q:Is Magnesium Sleep Switch going to have a drowsy effect?
A:It is a non-drowsy formula, developed to help support deep restorative sleep, helping encourage healthy sleep patterns with a wake refreshed effect.

Q:Can I use it as long-term sleep support with no adverse effects?
A:Our Magnesium Sleep Switch is suitable to use for everyday or during times when you may need more sleep support. There are no known contraindications. We recommend always trying a period without use after 2- 3 months of regular use and reassessing your need regarding dosage and effect.

Q:Can I use Magnesium Sleep Switch alongside Quick Calm for additional stress and sleep support?
A:Yes, Quick Calm and Magnesium Sleep Switch can be used as day and night support for a comprehensive stress and sleep program. We recommend using Quick Calm for daytime calm support and Magnesium Sleep Switch for night-time sleep support.

Q:What dosage is best for effective sleep support?
A:The recommended starting dosage is 1-2 capsules per evening dose, depending on individual need. We would recommend using 2 capsules per evening dose for extra sleep support and trying 1 capsule as maintenance sleep support after a few weeks of use.

Q:Are there any known contraindications?
A:Not to be used in pregnancy or breastfeeding.
Ingredients
ACTIVE INGREDIENTS PER CAP: Magnesium hydroxide (Natural marine source) 530mgEquiv: Elemental Magnesium 175mgLemon Balm (Melissa officinalis)300mgMagnolia (Magnolia officinalis)100mgContains encapsulating aids.
No added soy, dairy, wheat + gluten.
About Lifestream
Choose Lifestream for powerful plant-based nutrition

PLANT-BASED
We truly believe the most natural and effective nutrition for the human body is found in plant-based whole foods.

100% NZ OWNED
Lifestream is 100% New Zealand owned, and were the original pioneers of Spirulina and Aloe Vera in Australasia.

SUSTAINABLY SOURCED
We want to know every detail of the sourcing process. From where an ingredient was grown, through to the farming practices and working conditions. We only purchase ingredients from the best growers in sustainable regions.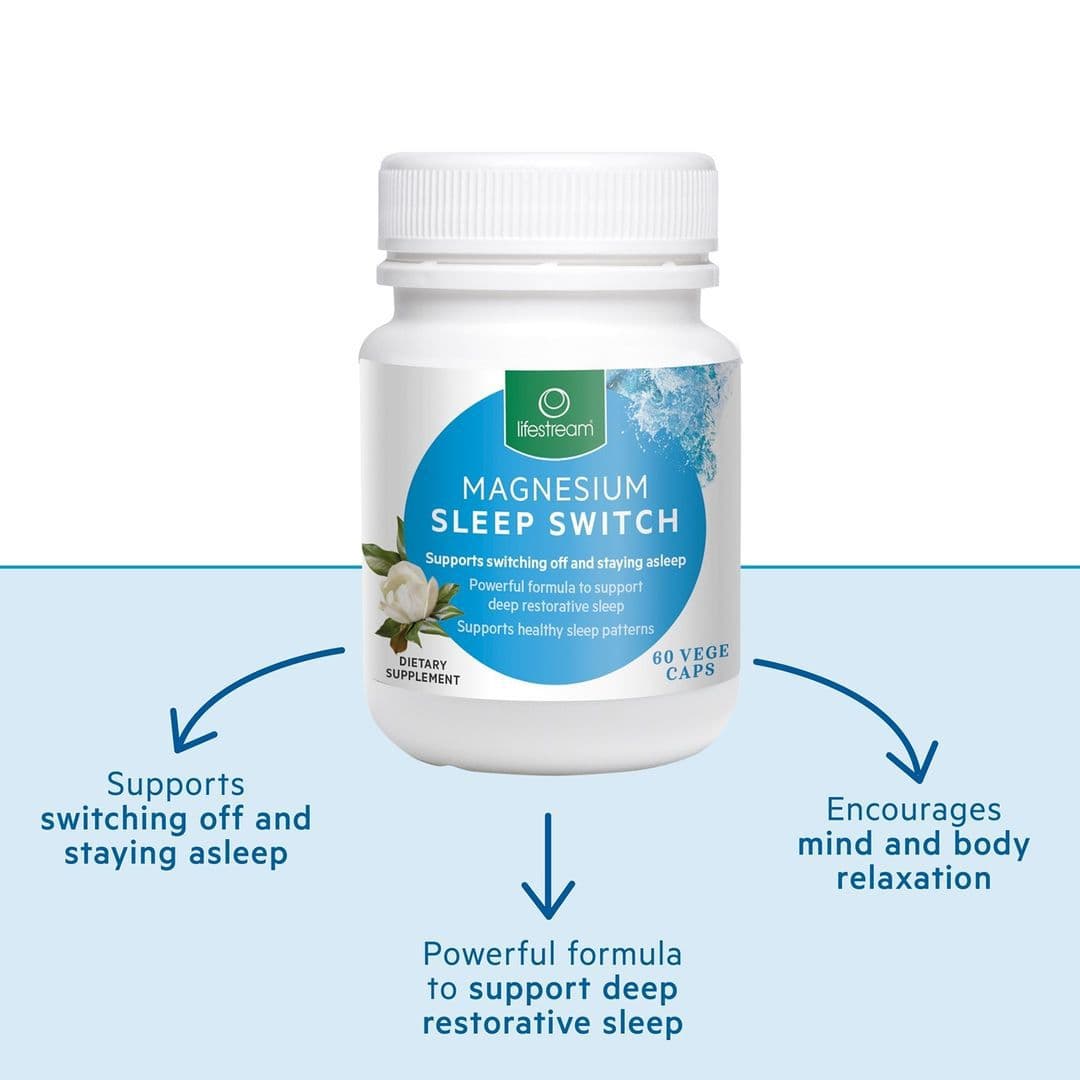 Lifestream Magnesium Sleep Switch (60 Capsules)
This section doesn't currently include any content. Add content to this section using the sidebar.