---
Details
Feeling tired? Are you lacking in iron and vitamin B12? Perhaps you're super active or maybe just stressed from having too much on? Great news! We have created the perfect supplement for you with our Spirulina Blue Extra! (FKA Extra Strength Blue Spirulina Performance) Packed in 100% Sugarcane Plastic packaging - kerbside recyclable.
Benefits
Provides iron and vitamin B12

Supports increased energy demands

Supports high performance and muscle recovery

Provides protection against oxidative stress

Is naturally bioavailable

How to use

Adults: 6 tabs (3g) daily

Increased amounts of up to 18 tablets daily can be taken as advised by your
healthcare professional

Children 6-12 years: 3 tabs (1.5g) daily

How does it work
Our Spirulina Blue Extra utilises an incredible algal plant superfood, which is high in bioavailable phycocyanin (23% - much more that other Spirulinas on the market).


This powerful antioxidant, together with vitamin B3, GLA and zeaxanthin is a unique combination that makes it the perfect Spirulina for people who are under increased stress, immune compromised or just needing extra energy to perform at their best.


If you're leading a hectic and active lifestyle, this powerful natural formula rich in vitamins, minerals, antioxidants and essential amino acids will provide you with optimal nutritional support and support muscle recovery and reduce oxidative stress in the body.


Our Spirulina is grown away from pollution in pure mineral-rich water. It is non-GMO and sustainably sourced by the global leaders in microalgae research and cultivation.


About Wellness Plus

Wellness Plus Philippines provides the best health needs one-stop shop. The official flagship of Comvita, LifeSpace, Hope's Relief, Lifestream, and Trilogy Products. Best & Authentic distributor in the Philippines with over 10,000 customers nationwide.
Lifestream Q&A
Q:Why is Lifestream Spirulina Performance so unique?
A:The Spirulina is grown away from pollution in pure mineral-rich water. Our Spirulina contains higher levels of the powerful antioxidant phycocyanin and it's a potent superfood for supporting normal immunity, vitality and well-being. Lifestream Blue Performance helps to support in times of stress, busy lifestyles and recovery. We think it's an ideal option for when you may need extra strength support. It is non-GMO and sustainably sourced by the global leaders in micro-algae research and cultivation.

Q:What is phycocyanin?
A:Phycocyanin is a powerful antioxidant, found naturally in spirulina. Our Spirulina is a potent source of phycocyanin, making it an extra strength product. It can help healthy immunity, everyday health, recovery and protection for when we may need it most.

Q:Who would use Lifestream Spirulina Performance?
A:Our Spirulina Performance is suitable for a wide range of people. It is a great option for anyone needing more support, energy or looking for better recovery support. It is a highly available superfood algae containing a powerful blend of super plant antioxidants, nutrients, vitamins and minerals.
Ingredients
ACTIVE INGREDIENTS per Tablet: Spirulina Powder (Arthrospira platensis) 473mgPhycocyanin Powder 22.5mgAlso contains Opadry II and Natural Vanilla Powder. ACTIVE INGREDIENTS PER TAB: Spirulina powder, Phycocyanin, Silica, Micro-crystalline cellulose, Magnesium stearate, Natural vanilla. No added dairy, soy, gluten or wheat. Packed in New Zealand from an imported ingredient.
About Lifestream
Choose Lifestream for powerful plant-based nutrition

PLANT-BASED
We truly believe the most natural and effective nutrition for the human body is found in plant-based whole foods.

100% NZ OWNED
Lifestream is 100% New Zealand owned, and were the original pioneers of Spirulina and Aloe Vera in Australasia.

SUSTAINABLY SOURCED
We want to know every detail of the sourcing process. From where an ingredient was grown, through to the farming practices and working conditions. We only purchase ingredients from the best growers in sustainable regions.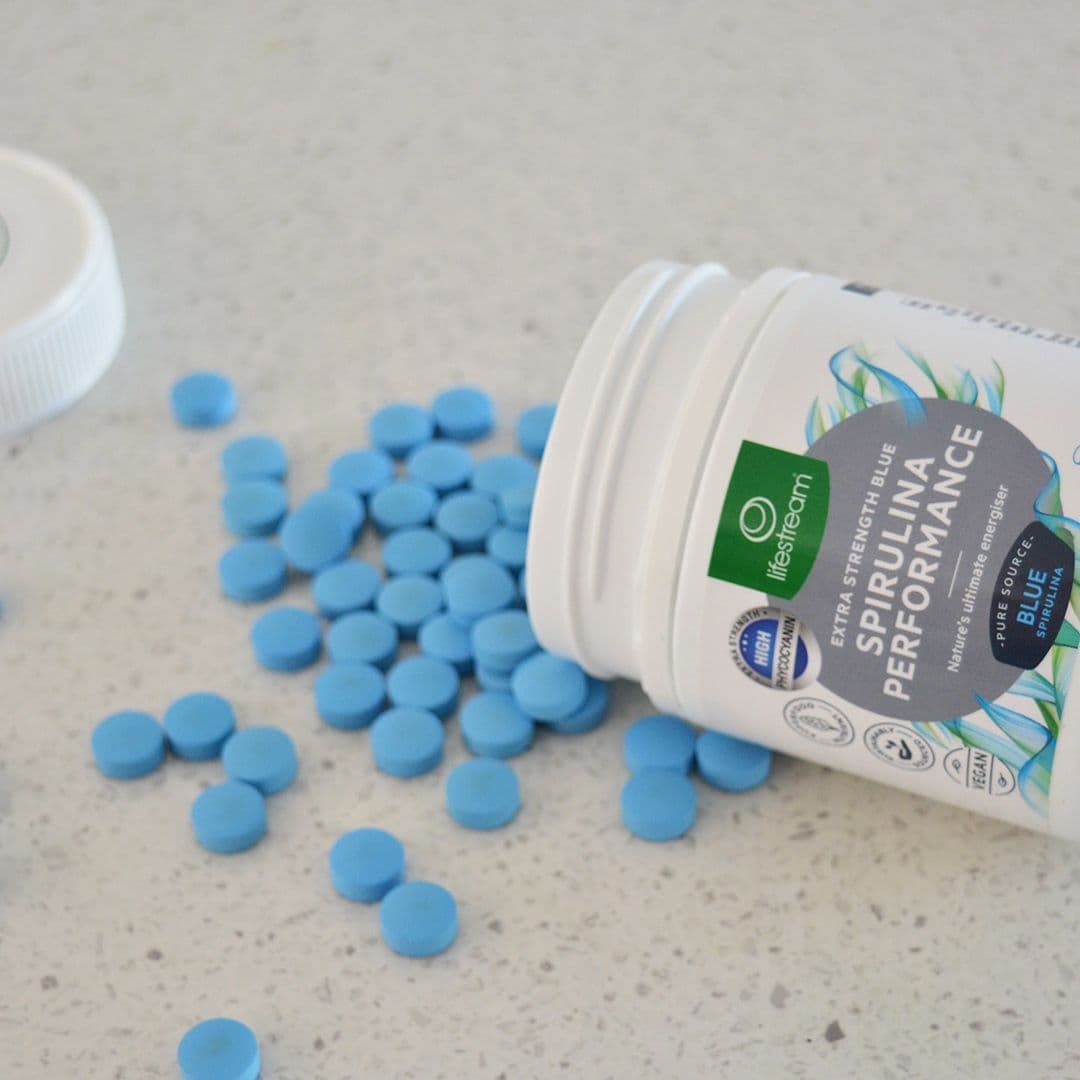 This section doesn't currently include any content. Add content to this section using the sidebar.