Details
Fatigue, stress, brain fog? Imagine achieving laser sharp focus and memory while still feeling calm, being in a good mood all day even under pressure - and all of that without caffeine crash! Fuel your focus fast with Lifestream Brain Fuel Nootropics . It boosts brain nutrition, function, and energy, with up to 5 hours* of enhanced mental clarity and focus. Packed in 100% Sugarcane Plastic packaging - kerbside recyclable.

Benefits
No increase in blood pressure or heart rate

100% plant based

Scientifically Researched

Starts working in 1 hour

Non-stimulating

How to use

Adults: Take 1-2 capsules daily with food.

Contains encapsulating aids.

Vegan. No added soy, dairy, wheat and gluten.

Always read the label and use as directed

If symptoms persist see your healthcare professional

Vitamins & minerals are not a replacement for a balanced diet

Store below 25° and away from direct sunlight

Do not use if cap seal is broken

Keep out of reach of children.

How does it work
Brain Fuel Nootropics is unique amongst caffeine-free energy supplements because of its same-day effect that can last up to 5 hours*. enXtra® has been scientifically shown to help spark cognitive function naturally.


With enXtra®: the ultimate brain fuel ingredient enXtra® (Alpinia galanga) is a unique nootropic botanical ingredient with a same-day effect for brain alertness, mental focus and energy.


Scientifically researched to start helping within 1 hour for up to 5 hours*.
Proven to sharpen and sustain mental clarity, focus and brain energy.
Helps calm performance anxiety along with maintaining sharp focus and alertness


Combined with nature's ultimate superfood: Spirulina Spirulina (Arthrospira platensis): The original green superfood with plant powered nutrients & Lifestream's iconic best-seller


A natural wholefood multi-vitamin & mineral for everyday energy and well-being.
Spirulina naturally contains essential B vitamins, antioxidants for healthy cellular energy plus fatty acids, and minerals such as magnesium for brain and energy support

About Wellness Plus

Wellness Plus Philippines provides the best health needs one-stop shop. The official flagship of Comvita, LifeSpace, Hope's Relief, Lifestream, and Trilogy Products. Best & Authentic distributor in the Philippines with over 10,000 customers nationwide
Lifestream Q&A
Q:What are the key ingredients in Brain Fuel Nootropics?
ABrain Fuel Nootropics contains 2 ingredients. The first is enXtra®, a unique extract derived from the plant Alpinia galanga. From the same botanical family as ginger, this herb is commonly known as galangal and used widely as spice in Asian cooking and medicinally in Ayurvedic and Chinese medicine.
The other ingredient is Spirulina. Spirulina is a blue green algae that is grown is the desert in North America in very isolated areas to avoid exposure to environmental pollutions and toxins. Spirulina is well known for its dense nutrient content of vitamins, minerals, antioxidants and fatty acids which all support energy and vitality levels as well as your immune defences.

Q:Is Brain Fuel Nootropics going to have a stimulating effect?
A:No – unlike coffee, sugar, and other stimulants, the ingredients in Brain Fuel Nootropics are non-stimulating, which also means there's no sudden "crash" in energy afterwards.

Q:Can I use it as long-term performance support with no adverse effects?
A:The ingredients in Brain Fuel Nootropics are non-addictive and safe to use for long term support. In conjunction with a healthy diet, and should always be taken with food.

Q:Can I use Brain Fuel Nootropics alongside Quick Calm for additional stress and sleep support?
A:Brain Fuel Nootropics and Quick Calm are a great combination to help support your resilience to stress, help you stay calm, as well as support focus and mental clarity.

Q:What dosage is best?
A:Always follow the dose on the bottle, unless advised otherwise by your practitioner. The dose we recommend for adults is 1-2 capsules daily with food.

Q:When is it best to take during the day?
A:When you need to focus and concentrate. It starts to work within in 1 hour and supports you for up to 5 hours with alertness, so best avoided too close to bedtime.

Q:Are there any known contra-indications?
A:Brain Fuel Nootropics should not be taken during pregnancy or breastfeeding.
Ingredients
ACTIVE INGREDIENTS PER CAP: enXtra® (Alpinia galanga) 150mgSpirulina (Arthrospira platensis)410mgContains encapsulating aids.
No added soy, dairy, wheat or gluten.
About Lifestream
Choose Lifestream for powerful plant-based nutrition

PLANT-BASED
We truly believe the most natural and effective nutrition for the human body is found in plant-based whole foods.

100% NZ OWNED
Lifestream is 100% New Zealand owned, and were the original pioneers of Spirulina and Aloe Vera in Australasia.

SUSTAINABLY SOURCED
We want to know every detail of the sourcing process. From where an ingredient was grown, through to the farming practices and working conditions. We only purchase ingredients from the best growers in sustainable regions.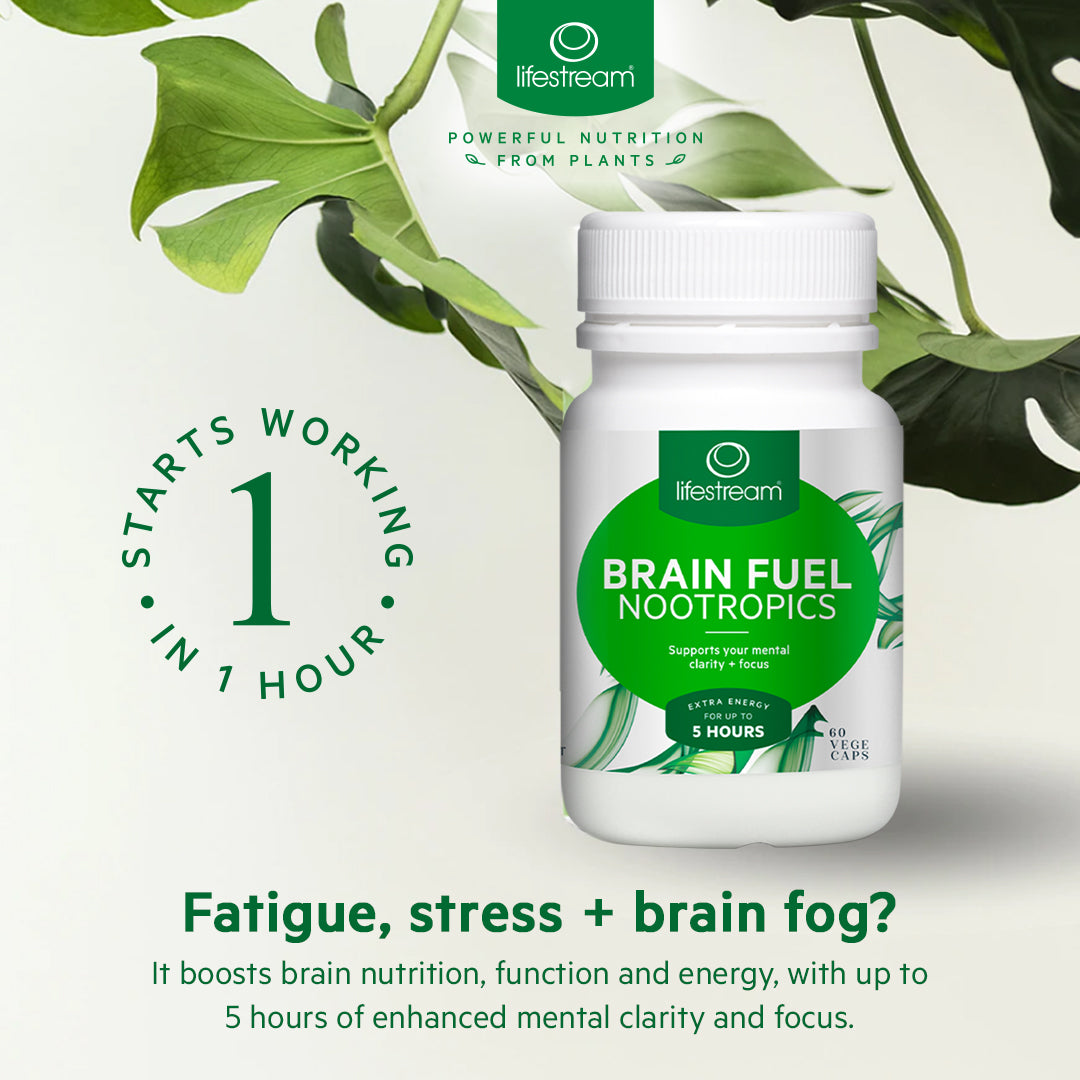 This section doesn't currently include any content. Add content to this section using the sidebar.