Details
A premium, targeted probiotic formula containing 2 strains of beneficial bacteria plus Lactoferrin, Zinc, Vitamins E & C and Biotin. Helps reduce the occurrence of symptoms of acne, congested skin pores and supports skin healing.

Storage
Store below 30°C in a dry place. Use within 3 months of opening. No refrigeration required.
Physical Description
Clear hard vege capsule containing off-white/beige coloured free-flowing powder.

Who this is for
Reduce the occurrence of symptoms of acne, congested skin pores and supports skin healing

Directions
Adults: take 1 capsule daily to maintain skin health; 2 capsules daily to help reduce occurrence of symptoms of acne; or take as directed by your health professional.

Benefits

Support the intestinal microbiome

Help reduce occurrence of pimples

Help reduce occurrence of blackheads

Support skin health and structure

Support digestion of nutrients

Support collagen health

Support wound healing


About Wellness Plus

Wellness Plus Philippines provides the best health needs one-stop shop. The official flagship of Comvita, LifeSpace, Hope's Relief, Lifestream, and Trilogy Products. Best & Authentic distributor in the Philippines with over 10,000 customers nationwide.
Ingredients
EACH VEGETARIAN CAPSULE CONTAINS: 2 BILLION CFU

B. breve M-16V, L. delbrueckii ssp. bulgaricus Lb-87, Bovine lactoferrin, Zinc gluconate (Zinc 5 mg), dl-alpha-tocopheryl acetate (Vitamin E), Ascorbic acid (Vitamin C) and Biotin.

L. = Lactobacillus
Mostly found in such as the digestive system, urinary system, and genital system

B. = Bifidobacterium
Bifidobacteria are one of the major of bacteria that make up the gastrointestinal tract

CFU = Colony Forming Units
Unit of measurement used for probiotics and other bacteria.
Probtiotics Q&A
Q: How to store probiotics products?
A: It is recommend to store at a humidity below 30 degrees in a dry enviroment

Q: Can vegetarians take this probiotic?
A: Yes, our probiotic products are also gluten-free, without dairy products, artificial colors or flavors.

Q: Can I take 2 kinds of Life Space probiotics at the same time?
A: Yes

Q: Can I take probiotics for long term?
A: Yes. Our long-term use of multi-strain probiotics has no negative impact on intestinal health and will help to balance our intestinal micro-ecology.

Q: Should I take Probiotic before meals or after meals?
A: We recommend taking it with or after meals.
Australia's No.1 Probiotic Brand
Life-Space creates leading* probiotic formulations for Australians; blending, packaging, quality-testing and distributing our products locally as well as around the world, including Asia, North America and the Middle East. These are proudly manufactured by our world class Australian production facility Ultramix; with 20 years of expertise in developing therapeutic products.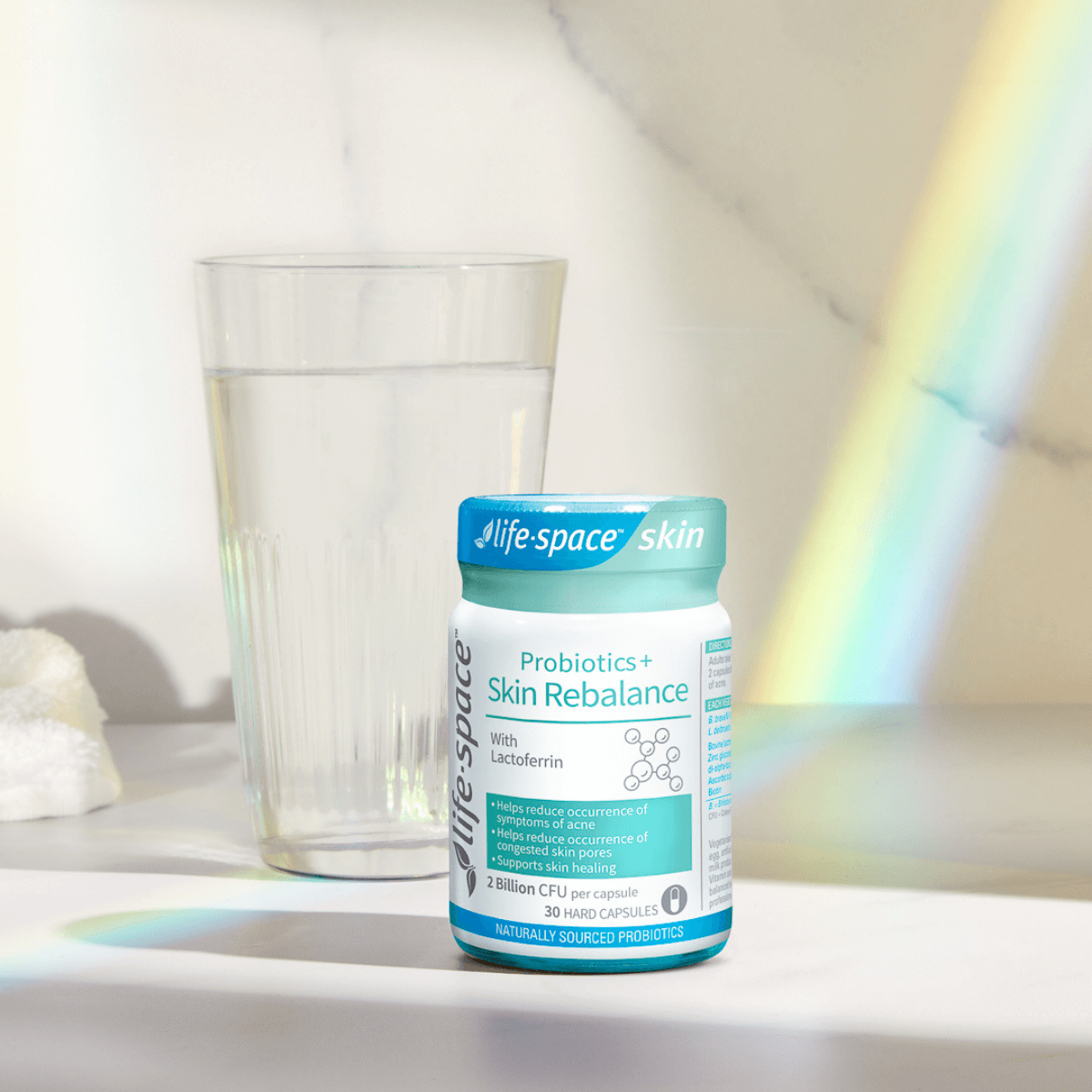 After using for about 2 weeks. I notice my face is less oily and lesser pimples, blackheads and acne.
I have a lot of acne on my face, and after searching for a long time strategy, this Probiotics Skin Rebalance With Lactoferrin helps to improve acne problems, I hope it can help me improve acne problems.
These have definitely helped my adult acne since having to wear masks at work during the pandemic. Only thing is its a shame they dont come in bottles of 60 or 90 capsules.
Clear skin. My skin is improving after 2 weeks of use
My skin is improving after 2 weeks of use
I was also hesitant to purchase due to the lack of reviews on this particular item, however noted other products within this brand were highly rated I decided to give it a go. I have been using these two a night for a little under a week and already in cooperation with a good diet, I have noticed a difference in the reduction of acne. I am very happy I went with this purchase and will definitely consider repurchasing when this bottle is finished!
This section doesn't currently include any content. Add content to this section using the sidebar.